Manitoba Whitetail Hunting
This is Manitoba whitetail hunting at its best. In this remote location on the shores of Lake Manitoba you won't see another hunter all day but the trophy Manitoba bucks will keep you busy. Our seasoned guides will do everything possible to make your Manitoba whitetail hunt the hunt of a lifetime!
| | | |
| --- | --- | --- |
| | | |
You will be transported to the field by ATV, giving us the ability to accommodate hunters of all physical abilities.
As full service outfitters, we provide it all. When you arrive at our cabin you will find it equipped with comfortable beds and a bathroom. Not to mention a spectacular view of Lake Manitoba.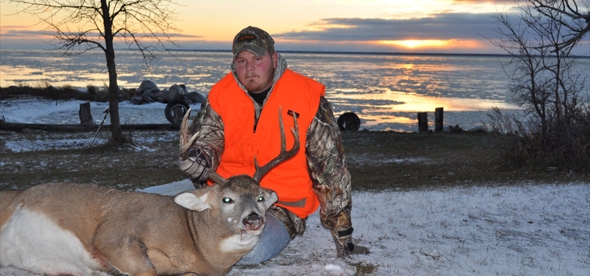 This whitetail hunting expanse consists of some private food plots and a large remote area that is prime whitetail deer habitat. The hunting consists of a combination of stand hunting and ground blinds.
Prior to your hunt, our guides scout prime whitetail location setting up along scrape lines, bedding/feeding areas, natural pinch points, and heavy traffic locations.
The guides will take you out and bring you back from your hunt each day. Your trophy will be skinned and caped for you, specific to your preference of mount. We will also package it and make sure all necessary documentation is in place.
All Manitoba whitetail hunts are fair chase hunts as necessary for Boone & Crockett.