Testimonials & Customer Comments
Take a look at what some of our past customers have to say about their hunting experience.
Ken Lilly
Rifle Hunt 2018 - St. Martin, Manitoba
I just returned home from 6 days of hunting at Olson Brothers Outfitters. First. let me say the hunting was EXCELLENT!! I could have shot a buck 5 of the 6 days I hunted, I was after a Canadian Monarch, I had my chance the 3rd. day of the hunt, but I did not see him in time, he got passed me, THAT'S ON ME. First, the cooking, Mrs. Olson provided us with the most AMAZING meals everyday!!! The accommodations were AWESOME!! The sleeping quarters were top notch, every hunter has their own separate bedroom and TWO showers. Dave and his sons go above and beyond to put you on your trophy, I have NEVER seen anyone work as hard as these guys do to put you on whitetails!! As I stated earlier, I didn't come home with a whitetail, but I left Canada with something FAR MORE VALUABLE than ANY whitetail, and that is all the new friends I made at Olson Brothers Outfitters. and the PRIVILEGE to spend 6 days with the Olson family. They are the FINEST people you will ever meet. THANK YOU ALL!!! God Bless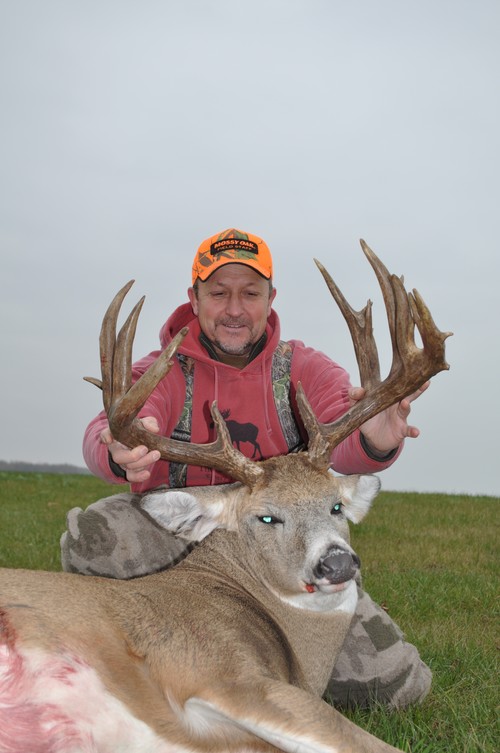 Frank Gagnon
Muzzleloader 2012 - Alfred, Maine
I hunted the 2012 muzzleloader season. I have to agree with William on every point. These guys work really hard to make sure you've got the best chance for a trophy. So on November 5 th, the dream of a lifetime was fulfilled, when the 190 class Buck went down. (192 1/8) God still answers prayer & I've been blessed. Thanks so much for a wonderful Hunt. THE STRICKER BUCK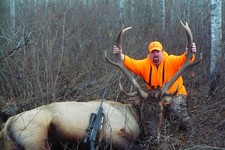 Joe and John Frank
Fall 2012 - Darlingford, MB
We would like to thank you for the wonderful hospitality and and great food while we stayed at your beautiful cabin during our elk hunt. Everything you offered was welcomed after the days spent out hunting.
Michael G. Betten, MD
Dear Dave and Phyllis,
On behalf of the Connecticut contingent I would like to thank you for the wonderful hunting experience you and your family provided us in November 2011. The cold days were made more comfortable by the warmth and hospitality of your lodge and family. The culinary delights served by Phyllis complemented the long days of waiting for the ten pointer to arrive. We are looking forward to our next trip.
Michael G. Betten, MD
William Melanson
My friend Ken and I had the pleasure of hunting with the Olson's in Manitoba during muzzleloader last season. To sum it up, this is like hunting with friends. Well, that is if you have friends that are awesome cooks, have a beautiful lodge, and will work their butt off to get you a deer :)
The food. Wow. Yes, you will gain weight, just accept it. The BEST walleye ever!!! Every meal was excellent, and more than you can eat. Trust me I tried. The hunting is great, and these guys know the woods. Every treestand had deer, and I saw five shooters(140-170), including the beast I missed. Funny how one little branch can change everything! One was by far the largest bodied deer I have ever seen, and I've shot one that dressed at 258..
My friend Ken shot a nice eight point, and enjoyed some magpie shooting. We have already booked our next trip, and can't wait to see our friends up North again!
Send Us A Comment
To our past clients: We appreciate your comments and if you would, fill out the form with comments and a photo about your experience at Olson Brothers Outfitting. Fields marked with * are required. Please enter the Name field how you want your name to read on our website (Examples: John Doe, J. Doe, John D., John Doe Corporation).